March 28, 2023
---
March 2023 edition of CloudWave Connections
We've created this newsletter for our customers to communicate what's new, let you know about upcoming events, share customer stories, and introduce you to members of our team.
We hope you find this newsletter informative and something that you look forward to receiving. If you have suggestions for topics, or have questions about something that's been featured here, please let us know.
---
A Note from John Gomez
How AI is Changing the Game for Healthcare Cybersecurity by ChatGPT
Our Chief Security and Engineering Officer, John Gomez, recently asked ChatGPT if it could write the introduction to this month's newsletter. 
ChatGPT asked what it should write about, and John suggested it share its thoughts on how AI is impacting cybersecurity in healthcare. For more of John's thoughts about how generative AI and ChatGPT will impact healthcare, check out this blog post here.
As healthcare organizations increasingly rely on digital systems to store and manage patient data, the need for robust cybersecurity measures has become more critical than ever.  AI-powered attacks leverage machine learning algorithms to develop more sophisticated malware and attack techniques. Attackers can use AI to analyze vast amounts of data and identify vulnerabilities that may have gone unnoticed using traditional methods. Additionally, AI algorithms can learn from previous attacks and adapt their techniques accordingly to bypass security measures.
The impact of successful AI-powered attacks on hospitals can be severe. Not only can these attacks disrupt hospital operations and compromise patient data, but they can also compromise medical devices that are critical to patient care. The financial impact of successful attacks can be significant, including the cost of recovering from an attack and potential fines for violating HIPAA regulations.
To defend against AI-powered attacks, hospitals need to adopt a multi-layered approach to cybersecurity. This includes implementing network segmentation to limit the impact of a successful attack, providing employee training to help staff identify and respond to threats, and leveraging threat intelligence to proactively identify and mitigate risks.
Another key strategy is the use of AI in cybersecurity defense. By using AI algorithms to analyze network traffic and identify anomalous behavior, hospitals can more quickly detect and respond to threats. Additionally, AI can be used to develop predictive models that help hospitals identify potential threats before they occur.
As a leading provider of healthcare IT services, CloudWave is well-positioned to help hospitals protect against AI-powered attacks. CloudWave offers a range of managed security services, including threat intelligence and incident response, to help hospitals identify and respond to threats quickly. Additionally, CloudWave uses AI in its cybersecurity solutions to enhance detection and response capabilities.
As the threat of AI-powered attacks on hospitals and healthcare organizations continues to grow, it is essential for hospitals to take cybersecurity seriously. By adopting a multi-layered approach to cybersecurity, leveraging AI in defense strategies, and working with expert partners like CloudWave, hospitals can better protect themselves against these evolving threats. Ultimately, the safety and well-being of patients depend on the ability of hospitals to defend against these attacks.
John Gomez is Chief Security and Engineering Officer for CloudWave
---
Stay up to date with our latest news, press releases, and events on LinkedIn.

---
HIMSS23 in Chicago
April 17 – 21
CloudWave will be at HIMSS23 in Chicago in Booth 3417
Learn more about it here
Tuesday, April 18 
Managing the Edge – New Ways of Looking at Your Data Center Infrastructure (1 PM)
Hear How ArchCare Health Services Tested Their Cybersecurity Response Readiness (3 PM)
Wednesday, April 19 
Take Healthcare IT Security to the Next Level – Go Beyond the Status Quo (11 AM)
Managing the Edge – New Ways of Looking at Your Data Center Infrastructure (1 PM)
Hear How ArchCare Health Services Tested Their Cybersecurity Response Readiness (3 PM)
Thursday, April 20
What Scares Attackers the Most and How They Are Using ChatGPT (11 AM)
How to Build Your Secure Cloud Offering – A Guide for ISVs  (1 PM)
---
Join us at Buddy Guy's Legends
Tuesday, April 18 at 6:30 PM
Join us for CloudWave's Annual Customer Appreciation Event at Buddy Guy's Legends, a well-known blues club in the heart of Chicago.
---

Join the CloudWave Cybersecurity Insider Program
Sign up today for the Cybersecurity Insider Program to join a community where you can regularly access free healthcare cybersecurity education and get alerted to threat intelligence gathered by our Cybersecurity Operations Center team. You will also have the opportunity to network with your peers to hear about their cybersecurity successes.
A few highlights of the program include:
Monthly free cybersecurity education – taking place on the last Thursday of every month
Ongoing alerts to high-risk cybersecurity threats with recommended actions
Access to a private YouTube channel (you'll get immediate access upon program registration)
Access to a private LinkedIn Group
Exclusive access to special events
Annual group Tabletop Simulation – May 11th
---
Meet Jayson Stokes
Director of Solution Architects
Many CloudWave employees have spent their careers in healthcare IT.
Jayson Stokes, the Director of Solution Architects for CloudWave, is a multi-faceted team member.
Like other members of CloudWave, Jayson worked for JJWILD for seven years. He joined Park Place in 2008, where he led technical service implementations.  Jayson launched the virtualization practice tailored for MEDITECH environments, which resulted in substantial growth for the company by 2012.
Some things about Jayson that you may not know?
Born in Hibbing, Minnesota (also the hometown of Bob Dylan and Kevin McHale), Jayson received a full scholarship from Boston University in 1987.
"I ran the 55m, 100m, and 200m dash and was the New England champion in 1988 in the 200m dash," he explained.
After he graduated with a degree in Psychology, Jayson worked with children with autism for just over three years in direct care and was a house manager for the Protestant Guild for the Blind. In 1994, he switched careers and worked as an IT tech for a commercial printing company.
Jayson gives back to US Veterans by contributing to Disabled American Vets, Wounded Warriors, and Tunnels to Towers Foundation.
---
MUSE is coming to Denver in June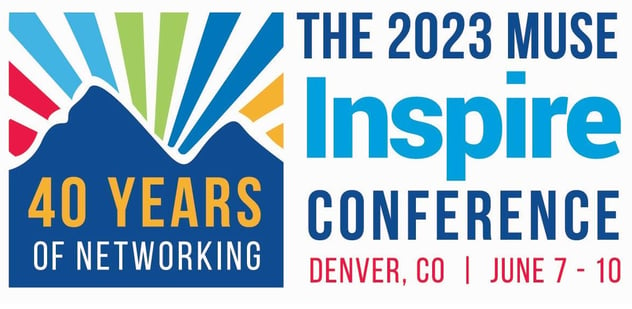 The annual MUSE Inspire conference will be in Denver, CO, from June 7 through 10.
CloudWave will be in Booth 512. Stay tuned for more details.
---
March Customer Success News
CloudWave would like to congratulate the following customers for their successful Disaster Recovery tests in the month of February!
Go Lives:
DR tests:
Anna Jaques Hospital
Intensive Specialty Hospital